Overwhelmingly Oversized Oregon Waterfalls
Chasing Oregon waterfalls was a dream trip that was on our bucket list for years...until 2020, when we finally took that spontaneous leap and flew out to the Beaver State to realize that dream together.
To say that it was better than expected is one of the greatest understatements of our lifetime.  We had great expectations for sure, but this is one case when reality FAR SURPASSED all of our expectations.
When we started chasing waterfalls together, if either of us saw a beautiful waterfall we wanted to visit, we'd take a screenshot and send it to the other and we'd add it to our bucket list.  We soon realized that usually about 8 out of 10 were in Oregon or some part of the Pacific Northwest.  But we still truly were not prepared for just how awesome our PNW experience would be.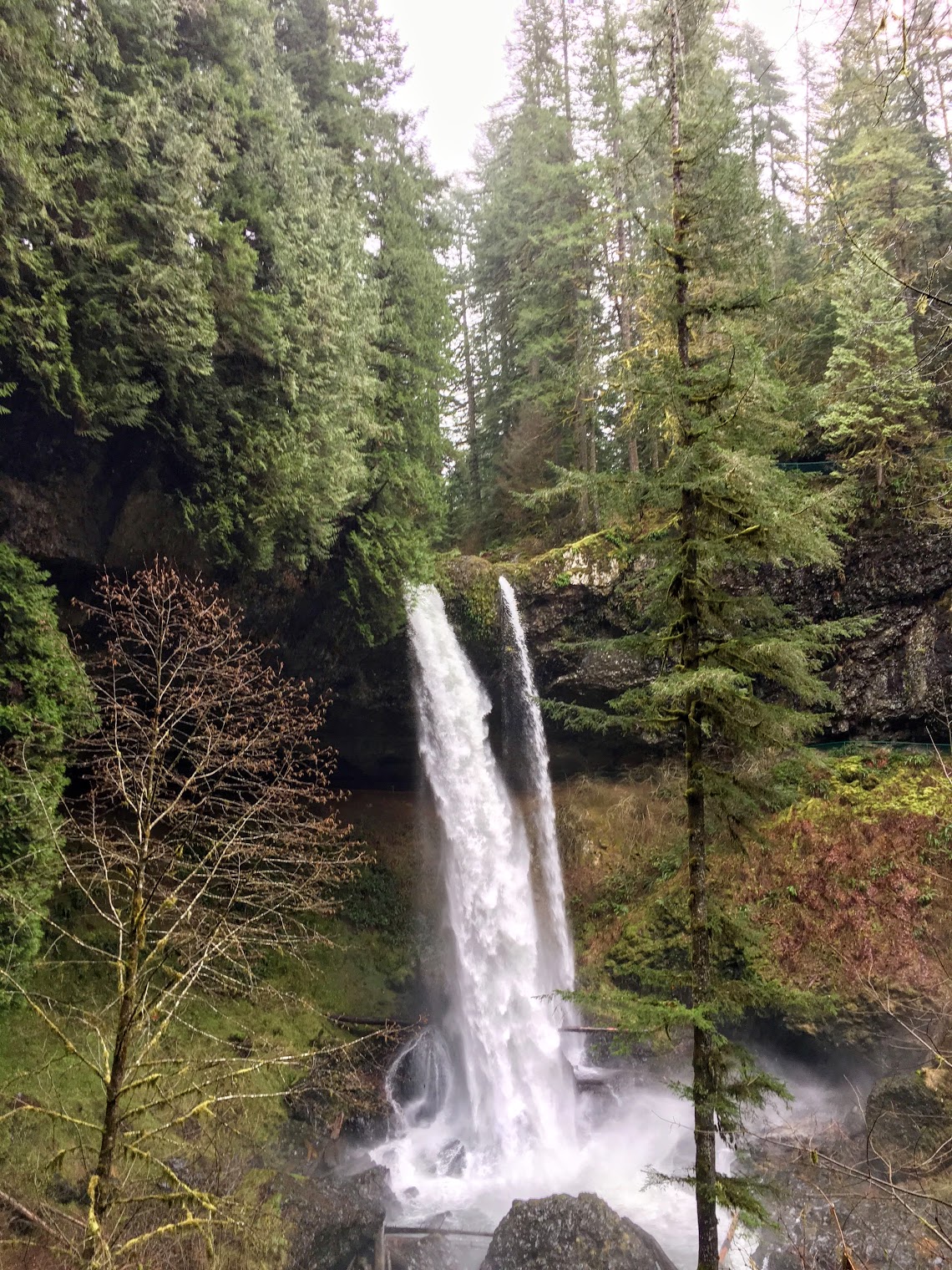 Trip of a Lifetime
We literally started planning our trip to Oregon in January of 2020, about two to three weeks ahead of time...definitely last minute for such a monumental adventure in the heart of Cascadia.
We planned the trip, even with alternative falls picked just in case logistics, conditions, or trail closures prevented us from seeing some of the falls we preferred.  That worked well, because there definitely were some closures due to the Eagle Creek fire and a few were just too far from where we were staying.
We stayed in a tiny house very close to the Columbia River Gorge, just outside of Portland, and we packed in at least 28 Pacific Northwest waterfalls, most of which were in Oregon (25 of them).
I even decided to propose at perhaps the most photographed of Oregon waterfalls...Multnomah Falls.  And you talk about logistical challenges...that was some secret agent, CIA, James Bond kinda sneaking around I was doing to pull that one off without Frankie knowing!  I even had to figure out a way to get her two go back to Multnomah for a second visit to propose, because the first time, the ring had not arrived yet!
😂 😂 😂
Oregon Waterfalls We've Enjoyed
Columbia River Gorge Waterfalls:
Dutchman Falls
Weisendanger Falls
Ecola Falls (Aka: Double Falls or Hidden Falls)
Wahkeena Falls
Horsetail Falls
Ponytail Falls (aka: Upper Horsetail Falls)
Bridal Veil Falls
Munra Falls
Shepherd's Dell Falls
Unfortunately, we did not get to see the waterfalls accessible by the Eagle Creek Trail as it was still closed due to fire damage from several years ago.  There were signs that it had been hiked recently at the trailhead, but we didn't want to take the risk since we were so far away from home and didn't know how dangerous it was, nor how serious the rangers might be about it.
Larson Creek Falls
Short Creek Spillway (not a natural waterfall, but beautiful in it's own right nonetheless)
Trail of Ten Falls at Silver Falls State Park:
You can bag all of these beauties on a single loop hike through the Trail of Ten Falls and it is well worth the journey!  This are not some dime store waterfalls.  Most of them are massive and so powerful!
South Falls
Lower South Falls
Lower North Falls
Double Falls
Drake Falls
Middle North Falls
Twin Falls
North Falls
Upper North Falls
Winter Falls
And the bonus waterfall that wasn't much to see at the time we were there, but it is a named waterfall at the park, so it's on this list...
Frenchie Falls
We also hiked to a couple more magnificent falls on our Pacific Northwest trip chasing Oregon waterfalls, but they were across the Columbia River Gorge in nearby Washington, so they'll be featured in that state's section.
Jan 19, 22 02:09 PM

Bald River Falls is one of the most beautiful waterfalls in Tennessee. See why it's so easily accessible!

Jan 12, 22 06:50 PM

Panther Falls is more beautiful than the other waterfall on the same trail! Find out why...

Jan 09, 22 09:38 AM

Bridal Veil Falls Highlands NC...in the not too distant past, you could drive your car right under it!