South Carolina Waterfalls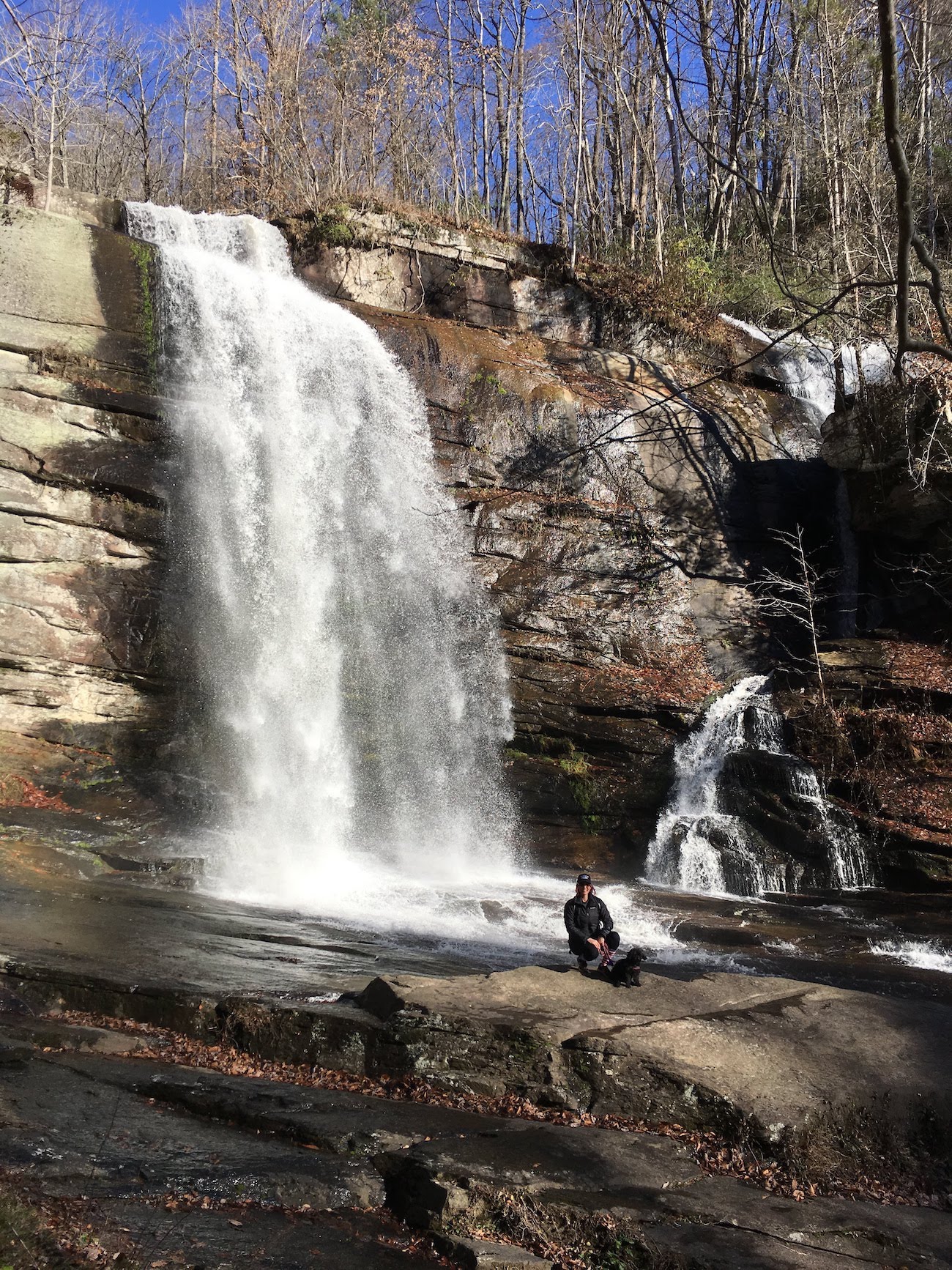 There are an estimated over 360 South Carolina waterfalls to be seen in existence!  Frankie and I have only just scratched the surface in our exploration of this southern state and it's natural wonders...but we've really enjoyed what we've seen thus far.
The Up Country
Like most outsiders, we usually thought of South Carolina in it's low country sense.  Charleston, Myrtle Beach, and the coastal area was first and foremost in our minds.  But, then one day, while hiking and adventuring along the southern border of North Carolina, we discovered that there is also an "up country" or more mountainous region of South Carolina that we definitely needed to explore.
Our first glimpse of this fantastic forested terrain was on a visit to Lower Whitewater Falls.  This breathtaking beauty plunges 200 feet into the gorge, framed up with sheer granite walls and stunning deciduous forest.  We got some great footage and close ups with our drone while we were there.
We knew after seeing this one that we had to search for more waterfalls within the Palmetto State, so that's exactly what we do every chance we get.  Of course, living less than 3 hours from the South Carolina state line does help our prospects of productive waterfall chasing day trips.
South Carolina Waterfall Hikes
Here are some of our favorite waterfalls in South Carolina.  We most certainly have much more exploring to do in order to uncover more of these beautiful southern gems:
Twin Falls (aka: Reedy Cove Falls, Rock Falls, or Eastatoe Falls)
Rainbow Falls
Yellow Branch Falls
Issaqueena Falls
Explore More
PRO TIP:  One of the cool things we have discovered is that many of the waterfalls in South Carolina are in relatively close proximity to each other.  What this allows us to do is to plan a road trip route in which we have the opportunity to tour several of these waterfalls in a given day.
Therefore, we can either plan a day trip drive from home, since we're not too far from the state border...or we can pick a spot for a home base during our waterfall adventures there.  We can either camp or pick a local hotel or AirBnB to launch from and give us a local respite for our achy feet after a long day of hiking.
We'll certainly share some of our suggested and tested routes on the site for you to appropriate for your South Carolina waterfall chase.
Have A Great Story About A South Carolina Waterfall?
Do you have a great story about your favorite South Carolina waterfall adventures? Or have we missed a South Carolina waterfall you love? Share it with us!
South Carolina Waterfalls
Oct 15, 23 02:07 PM

Explore Burgess Falls, a hidden gem among Tennessee waterfalls. Inviting trails, lush landscapes, and cascades create an unforgettable adventure.

Oct 03, 23 02:14 AM

Discover the beauty of Bridal Veil Falls NC in Dupont State Forest. Plan an exhilarating hike among North Carolina waterfalls and create lasting memories!

Jan 19, 22 02:09 PM

Bald River Falls is one of the most beautiful waterfalls in Tennessee. See why it's so easily accessible!