Foster Falls

Plunging Into Our Hearts
Tracy City, Tennessee, USA
While Foster Falls certainly wasn't the first waterfall that Frankie and I experienced together, it may just be the one that we've been to most often.  We've hammocked there, dreamed there, and ultimately fulfilled one of our biggest dreams there as it became the site of our wedding elopement in September of 2020.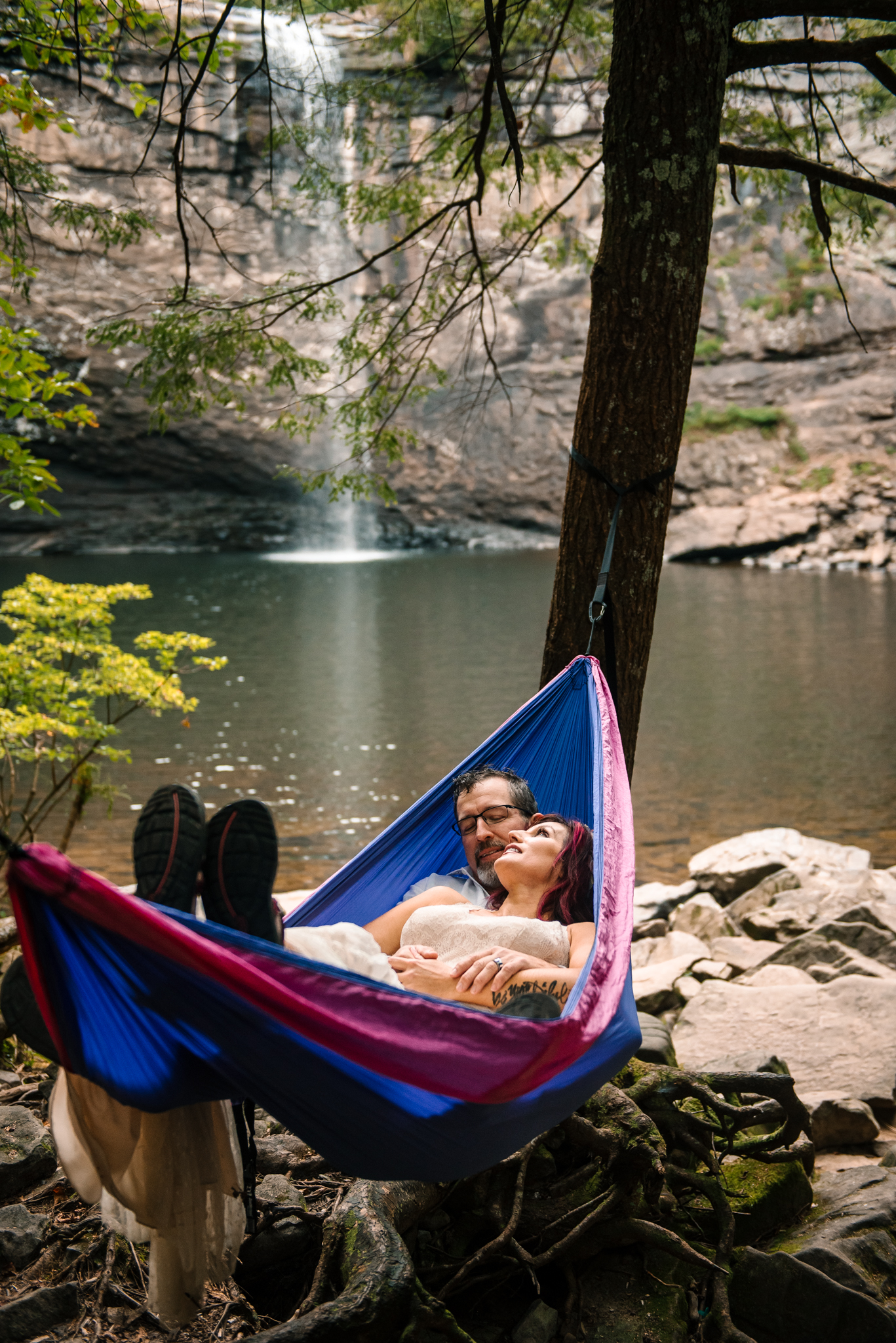 Foster flows down Little Gizzard Creek at the southeastern end of the Fiery Gizzard Trail.
The falls plunges into a beautiful and big pool that many people use as the amazing swimming hole that it is.  Of course, the only time we swam in the pool was on our big day, after the ceremony...IN OUR WEDDING CLOTHES, nonetheless!
Activities at Foster Falls
The Foster Falls area is great for picnicking, hiking, nature viewing, photography, camping, etc. 
It is also a hotbed for climbers in the area due to it's high quality sandstone cliff walls and overlooks.  Climbing permits can be applied for on the State of Tennessee website.
Hiking is probably tied with rock climbing as the most popular activities in the park.  The reason for this is largely due to the fact that the famous Fiery Gizzard Trail (once named by Backpacker magazine as one of the top 25 trails in the entire United States) ends here (or starts here, depending on direction of travel).
Because of the scenic nature of the area and the waterfall laden trail, it's only natural (pun intended) that nature viewing and photography also make this place a prime attraction for both professionals and amateurs alike.
The picnic area next to the parking lot is spacious and is conveniently located right next to the restrooms.  So far, each time we've visited the restrooms show evidence of regular cleaning and seem to be kept up pretty well.
If you're looking to camp there, South Cumberland State Park does have a rustic 26 site campground with no electricity or utility hookups that is open year-round.  More information, including reservation info is available at the Tennessee State Parks website.  If you are hiking the Fiery Gizzard Trail while you're there or visiting other areas of the South Cumberland State Park network, info on back country and other camping areas are also on that page.

Waterfall Photo Gallery
Click any photo to open the gallery and scroll through full size photos.
Restaurants Nearby
Our favorite thing to do is pack a lunch whenever we're out waterfall chasing, but if you'd rather someone else do the cooking, there are some great places to grab some grub in nearby Tracy City.
If you prefer desert first, there is an amazing little hole in the wall called the Dutch Maid Bakery that makes delightfully tasty pastries and treats that are sure to make you want a second helping.
For a good burger, look no further than The Lunch Box, and the service and southern hospitality will make you feel like you're a part of their extended family.
There are a few other places in the same part of town that we have not tried yet like Hank's Corner Grille, Dairy Delight, and La Ranchera Mexican Restaurant as well.
Finally, less than 15 minutes from downtown Tracy City is Monteagle, Tennessee.  There are several dining options, including on the more upscale side.
But our go-to restaurant when we come near Foster Falls or anywhere closeby is Jim Oliver's Smokehouse Restaurant.  They have great smoked meats, a buffet (when not reeling from COVID restrictions), and a great southern American menu.  They also have some of the best fried pies you will ever put in your mouth.
Foster Falls
Oct 15, 23 02:07 PM

Explore Burgess Falls, a hidden gem among Tennessee waterfalls. Inviting trails, lush landscapes, and cascades create an unforgettable adventure.

Oct 03, 23 02:14 AM

Discover the beauty of Bridal Veil Falls NC in Dupont State Forest. Plan an exhilarating hike among North Carolina waterfalls and create lasting memories!

Jan 19, 22 02:09 PM

Bald River Falls is one of the most beautiful waterfalls in Tennessee. See why it's so easily accessible!