DeSoto Falls

Alabama State Park
Mentone, Alabama, USA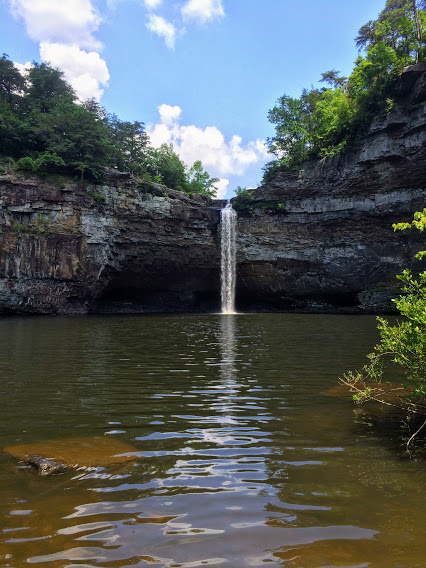 DeSoto Falls was probably the first waterfall in Alabama that we visited together.  We've been many times since that first visit and it's always beautiful and worth the trip.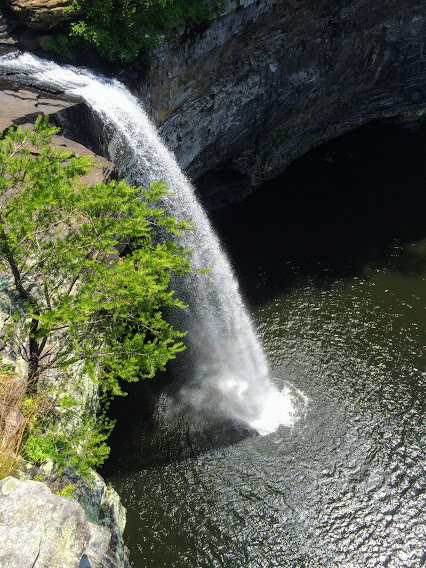 The falls is located at the DeSoto Falls Picnic Area, which is a few miles away from DeSoto Falls Alabama State Park, proper.

About the Falls
When you pull into the parking lot, it opens up to a beautiful lake just atop the dam, which is above the falls.
There are actually 2 sets of falls here.  The upper, being a two vertical cascades side by side.  The lower being the final drop of what constitutes DeSoto Falls and usually the one you see in pictures.  The size of the drop is 104-107 feet.  Both are sited on the Alabama State Parks website in different spots, but let's just agree that the falls are a little over one hundred feet tall from the greenish waters of the gorge below.
Fees
There is a bathroom facility, nice picnic tables, trash cans, etc, so the state of Alabama does charge a small usage fee in this area.  At the time of this writing, it was $4, but be prepared in case they go up, or check for any fee notices posted on the DeSoto Falls Alabama State Parks website.
Our First Time at DeSoto Falls
Our first time at DeSoto Falls was during the summertime and in a relatively dry time period, so the waterflow was low, compared to other photos and videos we've seen.
We enjoyed the various overlooks of the falls and even climbed around at our own risk around the top of the falls. 
***We DO NOT recommend that you do the same as currents can be much more swift than they look and riverbeds and stream beds can be much slicker than they seem at first.  We have learned of many deaths at various waterfalls since our photos and have realized that going forward, we will not put ourselves in that kind of danger, even if it doesn't FEEL dangerous at the time.***
We also managed to find a route to the other side, which seemed safe at the time, so we were able to play on the beach below and get some great photos of the falls from down in the gorge.
We have heard that there are other, safe, however unofficial routes into the gorge, but have not had the opportunity to investigate them as of yet.
We'll report back after we look into them.
Directions to the Falls
Click on the link or the map below for directions to DeSoto Falls Alabama.
Food and Area Restaurants
Because of the convenience and the beautiful setting at the picnic area above the falls, we highly recommend packing a lunch before you get on the road to head to DeSoto Falls.
But there are a few restaurant options in downtown Mentone and many more in Fort Payne.
Our favorite food spot on top of the mountain in Mentone is definitely the Wildflower Café.  If you're looking for an eclectic environment and delicious food, this is your stop.
The first time we ate there, Manson was with us, so they seated us in their outside area and even brought him his own water bowl and some tasty steak to eat.
Frankie absolutely loved their Famous Tomato Pie and I can assure you that their Loaded Shrimp N Grits were absolutely to die for.  We can also recommend their BBQ smothered chicken as well as their Angel Hair Pasta & Sautéed Vegetables.
On more recent trips, when we couldn't catch the Wildflower Café during business hours, we've opted for the Santa Fe Cattle Company and even Burger King, since we were looking for carnivorous options.  We order low carb at BK and get just what we need to refuel our bodies...BEEF!
Camping and Accomodations
There are numerous camping opportunities and other accommodations in the area including vacation rentals and lodges.
We always like staying in local AirBnBs when we can.  Search airbnb for the area here.
We've also had good success in recent years finding great places to stay on Booking.com.  Search Booking for the Mentone area here.
If you prefer to camp or stay on site at DeSoto State park, you can book reservations here.
Waterfall Photo Gallery
Click any thumbnail picture below and scan through our photo gallery of DeSoto Falls.
Oct 15, 23 02:07 PM

Explore Burgess Falls, a hidden gem among Tennessee waterfalls. Inviting trails, lush landscapes, and cascades create an unforgettable adventure.

Oct 03, 23 02:14 AM

Discover the beauty of Bridal Veil Falls NC in Dupont State Forest. Plan an exhilarating hike among North Carolina waterfalls and create lasting memories!

Jan 19, 22 02:09 PM

Bald River Falls is one of the most beautiful waterfalls in Tennessee. See why it's so easily accessible!