Virgin Falls

Sparta, Tennessee, USA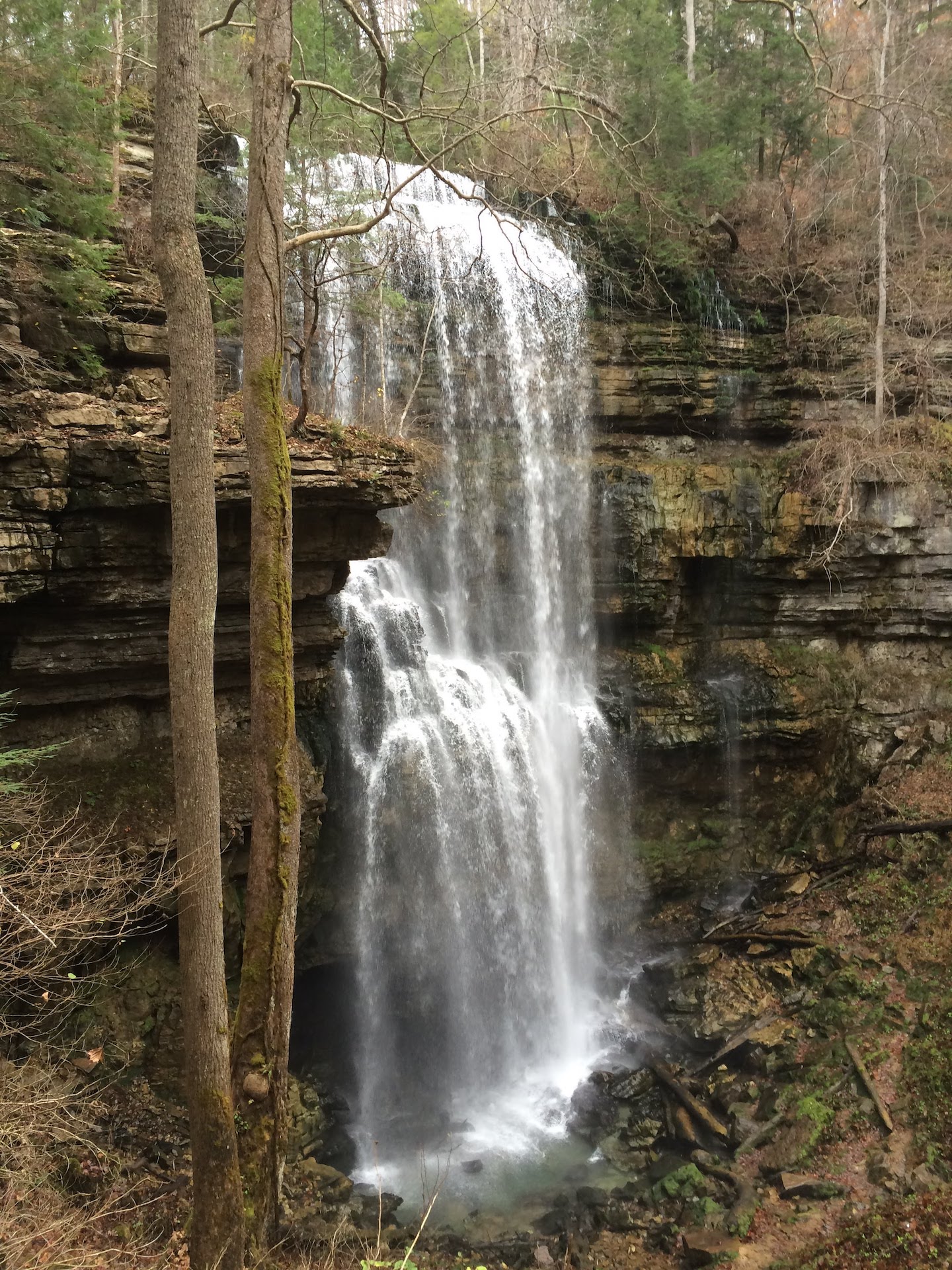 The hike to Virgin Falls is a favorite Tennessee trail for Frankie and I.  The trail is perfect day hike length, has varied terrain and scenery, and especially on wet days, has plenty of waterfall action.
In fact, the first time we visited, being in great shape and looking to ramp up the exercise factor, we actually ran most of the trail between scenic spots.

Virgin Falls is a formidable size at 110 feet and is unique because it comes from an underground stream, plunges off a cliff, then disappears into another cave at the bottom.
This waterfall easily makes our top 10 list for the Volunteer State.
Beautiful Trail
You'll start the Virgin Falls hike at the parking lot off of Scott's Gulf Road.
Follow the signs to the trail from the Kiosk and enjoy your walk in the woods.
As mentioned above, the the trail here has good variance of both terrain and scenery with mostly deciduous trees and plenty of Rhododendron along the creekside portions.
The hike features at lest 4 named waterfalls, including the obvious namesake, Virgin Falls...along with Big Branch Falls (may be just a trickle during dry periods), Big Laurel Falls (drops off the top of and runs into a large cavern), and Sheep Cave Falls.
The trail is pretty exposed in the area approaching Big Laurel Cave and is quite muddy during periods after heavy rains, so use caution in this portion of the trail.
There is also primitive camping just across from Big Laurel Falls and although we've never camped there, it seems like it would be the perfect spot for a mid-trail camp.
There are a couple of routes you can take on the way to Virgin Falls, the direct route and the route by Sheep Cave.  Our suggestion is that if there's been plenty of rain and Big Branch Falls was flowing good, take the route by Sheep Cave Falls and enjoy.  If it's a dryer day, consider the more direct route and if you're curious, you can always swing by Sheep cave on the way back.
The Main Attraction
Virgin Falls is, of course, the main attraction and when you arrive, you'll see why.  It's just a very beautiful waterfall and quite tall, especially if you venture down into the sink for photo ops, which we highly recommend.

Our first visit, was a dry period and the water flow was very low, but still beautiful as you can see from the pictures below.

Where is Virgin Falls?
Virgin Falls State Natural Area is located on the Cumberland Plateau in White County Tennessee near the town of Sparta (insert 300 jokes here).
We've found that Google Maps does a good job at getting you there, so click here for directions...
Food Choices and Nearby Restaurants
Being a day hike and spending so much time on trail, we almost always pack a lunch for this one or at least a snack, if we are planning on a larger meal at a local restaurant afterward.
There are a few chain restaurants as well as local stops for grub in nearby Sparta.  Personally, we've hit the Pizza Hut a time or two, which is right next to a Taco Bell, and we've even gotten some good food at the local Huddle House.
Whichever way you decide to go as far as food goes, you do have options here, so check them out and decide for yourself.
Camping and Lodging
The Virgin Falls State Natural Area has been annexed by Fall Creek Falls State Park, so camping reservations can be made through the Tennessee State Parks website here.
There are 14 primitive campsites that can be reserved at various locations along the trail, so this makes for a nice overnight backpacking trip as well.
If you prefer not to camp, Airbnb offers some pretty cool places to stay in the area.
And of course, if you prefer a hotel, there's a few options nearby as well.
Oct 15, 23 02:07 PM

Explore Burgess Falls, a hidden gem among Tennessee waterfalls. Inviting trails, lush landscapes, and cascades create an unforgettable adventure.

Oct 03, 23 02:14 AM

Discover the beauty of Bridal Veil Falls NC in Dupont State Forest. Plan an exhilarating hike among North Carolina waterfalls and create lasting memories!

Jan 19, 22 02:09 PM

Bald River Falls is one of the most beautiful waterfalls in Tennessee. See why it's so easily accessible!