Keown Falls

Armuchee, Georgia, USA
Keown Falls in Lafayette Georgia, is definitely a wet weather waterfall.  In fact, we avoided visiting it for years, simply because we have never really seen more than a trickle of water flowing from it in all of the online photos we had seen.
Thankfully, the day we visited was after a decent amount of precipitation on a wintery day in early 2021...so while still not a massive torrential waterfall, there was more waterflow present than in any of the previous pics we had seen, so we consider our expedition a success.

Keown Falls Trailhead Directions and Description
There are a couple of trailheads you can use to get to Keown Falls, but at the time we went, only one was open.  The Johns Mountain Overlook road was closed due to vandalism, so we were left to the official picnic area trailhead, which is the most direct route anyway.
The picnic area is nice and the restrooms appeared to be pretty well-maintained when we went.  There were plenty of picnic tables, many along the stream, and surprisingly more parking room than we expected.
Because of that, I can totally see why reviews we had read stated that this is definitely a heavily trafficked trail.
We went on a Sunday, which was definitely risky with regard to crowds, however there was rain in the forecast and the day was mostly overcast, so while it was more crowded than we expected, it wasn't too bad that day.
Click on the map below for directions to the trailhead.
Our Trail Route
We wanted to get a good hike in, so we opted to do both the Keown Falls Loop and the Johns Mountain Loop trails.
The combination of the two got us about five miles worth of hiking, some pretty decent winter views, two wet weather waterfalls, and some good elevation gain.
Keown Falls Trail Map
Upon starting the trail, we soon came upon a fork in the trail, so we made a split second decision to take the left fork.
We came upon South Keown Falls first and thought it was Keown, but realized it was just a bonus and the lesser of the two.
We then traversed a considerable amount of mud, so be sure to wear some good gripping footwear if you visit during one of these rainier days.  It gets pretty slick in places.
Then we came upon Keown Falls and it was a less than stellar waterfalls, but nicer than we had expected.
We then followed the signs up the cliff toward the Johns Mountain Loop Trail, which also runs congruent with the longer Pinhoti Trail.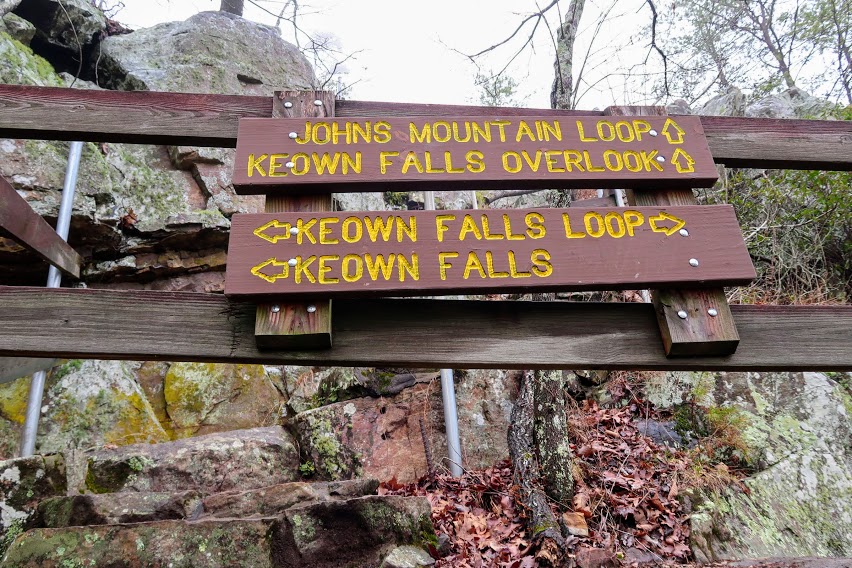 We continued our path to the left to keep it simple and after a mile or so, found a good rocky spot to enjoy lunch.

We continued up the mountain and past a radio shack and tower where we spotted the Johns Mountain Overlook, which presented the best view of the valley below.

The trail then picked back up on the side of that parking area just opposite from the overlook and pointed us back down the mountain.
This route has several off trail overlook opportunities on the way back down the mountain and took us back to the top of the Keown Falls trail, where we continued down the loop and to the left to finish out the hike.
All in all, this was a decent hike, but will not make our favorites list and is for sure not a hike we would choose to do on a hot summer day.
Food and Restaurants Nearby
Keown Falls is one of those trails we certainly recommend packing a lunch for, but if you want to find a restaurant, you'll find the most choices about 30 minutes away in Calhoun: Restaurants in Calhoun, GA
There are also several dining options about the same distance on the opposite side of the mountain in Lafayette: Restaurants in Lafayette, Georgia
Camping and Lodging Nearby
If you visit during the months of April through October, there is a small 27 spot campground about 3 miles down the road called The Pocket Campground.
If you want to be a little closer to civilization, but still close enough to explore Keown Falls, you may want to check out some of the other camping options here.
Rather stay in an intimate setting, but prefer to have more of the typical modern conveniences, check out the Airbnb's in the area.
Jan 19, 22 02:09 PM

Bald River Falls is one of the most beautiful waterfalls in Tennessee. See why it's so easily accessible!

Jan 12, 22 06:50 PM

Panther Falls is more beautiful than the other waterfall on the same trail! Find out why...

Jan 09, 22 09:38 AM

Bridal Veil Falls Highlands NC...in the not too distant past, you could drive your car right under it!