Cullasaja Falls
A Hidden Roadside Gem


Highlands, North Carolina, USA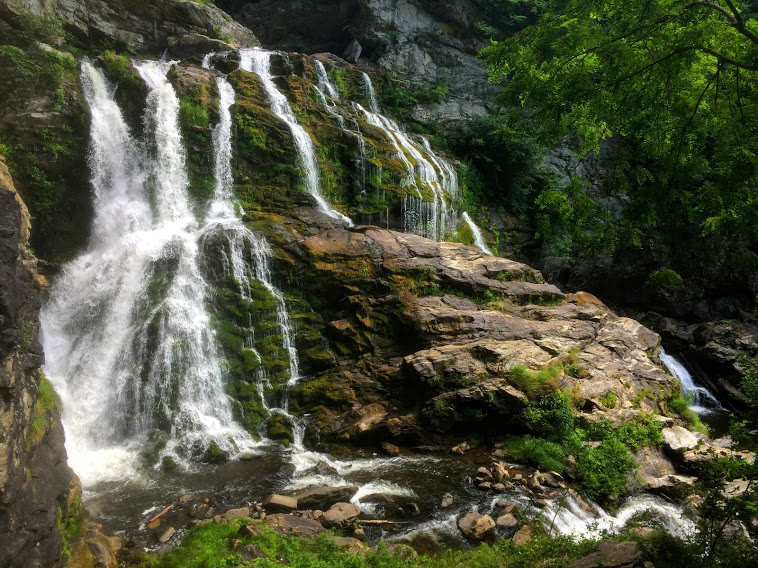 Cullasaja Falls is in an obscure roadside location on the way up Highway 64 in the beautiful Cullasaja River Gorge.  But, even though it's along the roadside, it requires a bit of a climb to get to it.  In fact, if you're not paying attention as you drive by, you might just miss it.
A Favorite Drive
One of our favorite drives is definitely up Highway 64 up the mountain toward Highlands, North Carolina.
***Warning:  The drive combines a curvy road with great mountain scenery and several great roadside waterfalls.  It's best to pay attention to the road if you're driving through there, so it's best to have a copilot to spot waterfalls and the best places to pull off or else you might just become a statistic.  This is a dangerous road.***

To the right side of that road is Cullasaja Falls.
Finding Cullasaja Falls
When we first saw this awesome North Carolina waterfall, we whizzed right passed it.
It's a tough spot because you have to be watching and ready to whip into the small pull off, IF IT IS CLEAR.  The pull off will not hold many cars and the road is busy enough and curvy enough that you can't linger on a decision.
If you can't make it in on the first pass, just be prepared to continue up the mountain and turn around at the first safe place you have an opportunity and try it again.
We had to do this on our first visit to the falls too, so just be prepared and patient and it won't be a problem for you because you'll be expecting it.
When you do pull in, get as close to the guard rail as you can and be very careful and watchful as you exit the vehicle as the highway is narrow and curvy as already emphasized, so it wouldn't take much to get clipped by a passing car or truck.
Descending Into the Gorge
Once you're out of the vehicle and safe, look for a rope descending from the guard rail into the Cullasaja Gorge.  You are going to use that rope to assist you in the steepest portion of the descent as well as the climb back up to the roadway.
After you run out of rope, just carefully pick your way down into the canyon and to the riverside.
Then hike up river a short piece to the foot of Cullasaja Falls.
You'll want to take your time and take this massive waterfall in from as many vantage points as you can.
Take your photos and your selfies and when you're ready, head back up the same way you came down.
The Road Toward Highlands
Once you are safely back in your vehicle, you'll want to continue up the mountain to take in the other great roadside waterfalls.
Then stop in the quaint little town of Highlands, North Carolina and take a walk around town.
On one trip there, we grabbed some great Chinese takeout from Asia House restaurant.  Then we grabbed a picnic table at Kelsey-Hutchinson Founders Park.
Food Recommendations Nearby
In nearby Highlands, there are tons of great restaurants and of course if you're in the mood for sushi or Asian food, definitely check out the Asia House restaurant as mentioned above.
But, also just a few miles the other direction and down the mountain is Franklin, NC...which also has several restaurant options to choose from.
Then if you go over the mountain, the opposite direction of Franklin, you can find lots of great places to eat in Cashiers.  We can recommend Chile Loco for authentic Mexican food.
Accommodations Near Cullasaja Falls
There are lots of places to stay in and around Highlands, however, we've found the immediate area can be a bit pricey.  If that's not an issue for you, cool.  You'll love the convenience of staying in Highlands with it's quaint downtown, great shops, and amazing restaurants.
If you're a little more price conscious, you may want to consider driving about 20 minutes beyond Highlands to the very cool town of Cashiers, North Carolina.
We have stayed in Cashiers and loved it!
We stayed a the cute, but nicely appointed and recently renovated boutique Hotel Cashiers.  We stayed there and literally walked down the hill from the hotel to grab a delicious Mexican dinner at Chile Loco.
Cullasaja Falls Photo Gallery
Click any thumbnail picture below and scan through our photo gallery of Cullasaja Falls.

Jan 19, 22 02:09 PM

Bald River Falls is one of the most beautiful waterfalls in Tennessee. See why it's so easily accessible!

Jan 12, 22 06:50 PM

Panther Falls is more beautiful than the other waterfall on the same trail! Find out why...

Jan 09, 22 09:38 AM

Bridal Veil Falls Highlands NC...in the not too distant past, you could drive your car right under it!